Free-Motion Quilting Blog Hop!
Jenny Lyons wrote a book about free motion quilting on a home sewing machine.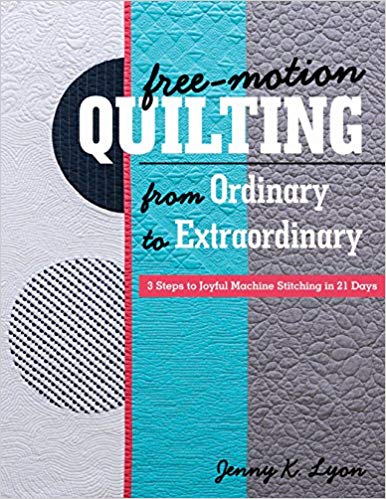 I was excited to give it a read and see what I could learn. The really exciting part is that the book is for quilters like me. Those who have taken a few classes but still aren't always confident enough to quilt our best quilts. After reading through the book I started on the first part by "placticing." Play + Practice = Plactice.
Jenny recommends a program of Plactice that is 21 days long. I'm almost through my first week and I already am seeing improvements. I'm slowing down and enjoying the process of placticing.
I needed to create some postcards for the Stay Pawsitive fund raiser being done at Craft Napa next month. Jenny gives some good tips on making post cards on page 43. Post cards are such a great project to practice on. Jenny's pup, Zeke, inspired me to make a basset hound postcard.
(Also Jenny is teaching at Craft Napa, so sign up for her classes!)
I used the loops I placticed to make the spots on his nose. I think he approves.
I also think he wants a sister and brother.
I look forward to trying out Jenny's method of Quilt As You Go.
It's different than any method I have seen before!
Now about the blog hop -
_ Leave a comment on the blog to enter for a chance to win a copy of Jenny's book!
– You can enter each day, on each new person's blog post, but can only win once.
– Each blogger will leave the comments open for 8 days and then will choose a winner using a random method.
– Jenny will send the winners a signed copy of her book.
– If you find a blog along the way that you find interesting, sign up to receive notices of each future posting. This is a talented group!
– International winners will receive a digital copy.
Good luck and Happy Placticing!